A few days ago a friend of mine who fancies herself as a doctrinal teacher in the Novus Ordo/Vatican II religion and who I have written extensively to showing her the differences in doctrines and sacraments between the catholic Church and Novus Ordo/Vatican II religion, confronted me and said that I condemn people too much!
Then she said that those I condemn will be in heaven before me!
Why was she so angry? She was angry because I pointed out so firmly, in a written treaties how different Novus Ordo religion is utterly different from Catholicism!
The evidence was overwhelming and she is bound in conscience to own up to the truth!
But alas, she changed the subject and said I condemn!
Surely the Church condemns errors EVERYWHERE and I follow the teaching of the Church which I presented and which she rejected!
Right now I am presenting again what the Church teaches about modesty!
In our days, most women wear scandalous clothing and which is evil! They show their tommy, emphasize their buttocks ( wearing tight skirts and trousers), show their breasts, and show their arm pits! At the same time, they claim to be Christians!
Indecent dresses offend God greatly since it is an occasion of sin for men and women alike!
These are to be taken seriously! Our Lady of Fatima told the three shepherd children that more people go to hell due to mainly the sin of the flesh!
Dressing provocatively is to sin in the flesh and the modern individual cherishes immodest dress. He glorifies it, promotes it even in children and ANYONE speaking out against it is regarded as a fool or 'holier than thou'!
But still Catholics MUST speak out against this since it is one of the principal method the Devil uses to entrap souls!
The Vatican II religion has no qualms about indecency! The subtly promote it and keep silence about it! High ranking Novus Ordo/Vatican II clergy openly flaunt indecency as is seen below where 'Cardinal' Muller openly takes pictures with indecent 'punk' girls.
Also indecency finds its way in sacred places now occupied by Novus Ordo/Vatican II religion!
What can make indecent dances be presented inside the church as is seen in the picture below. These naked dancers actually danced in a catholic church in Australia!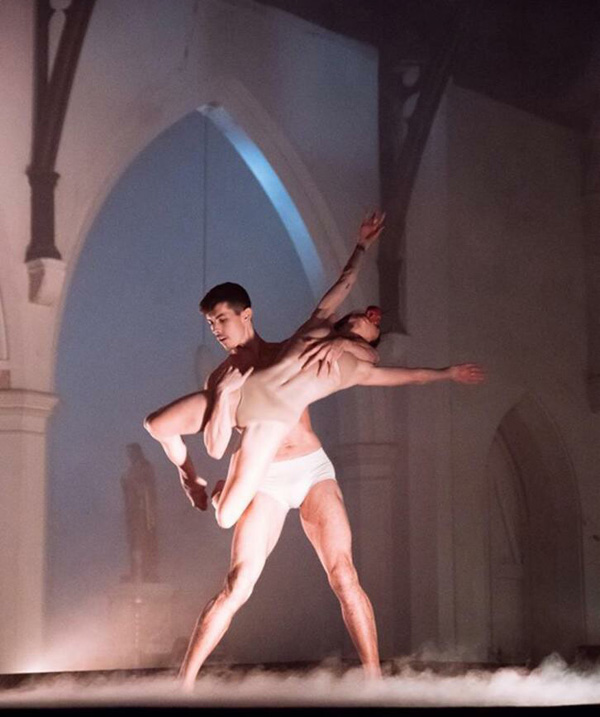 What can we make of the pretender Pope, Francis welcoming publicly a staunch promoter of illicit sex and iridescent dressing at the Vatican and even holding her in a manner unbecoming of any Catholic?
Here in the following picture, we see the apostate, Francis indecently holding and welcoming the Model, Wanda Nara!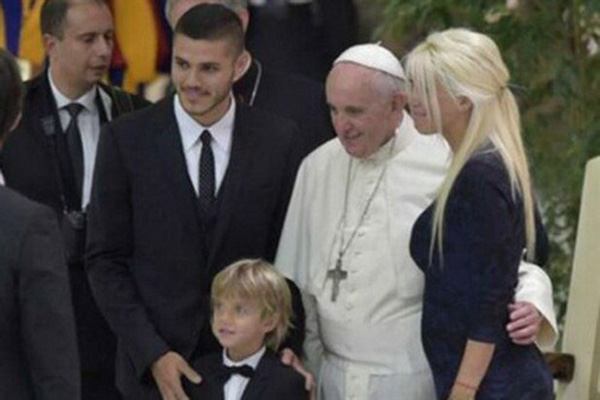 Here is the kind of work done by this model and be warned that the following picture is very dangerous.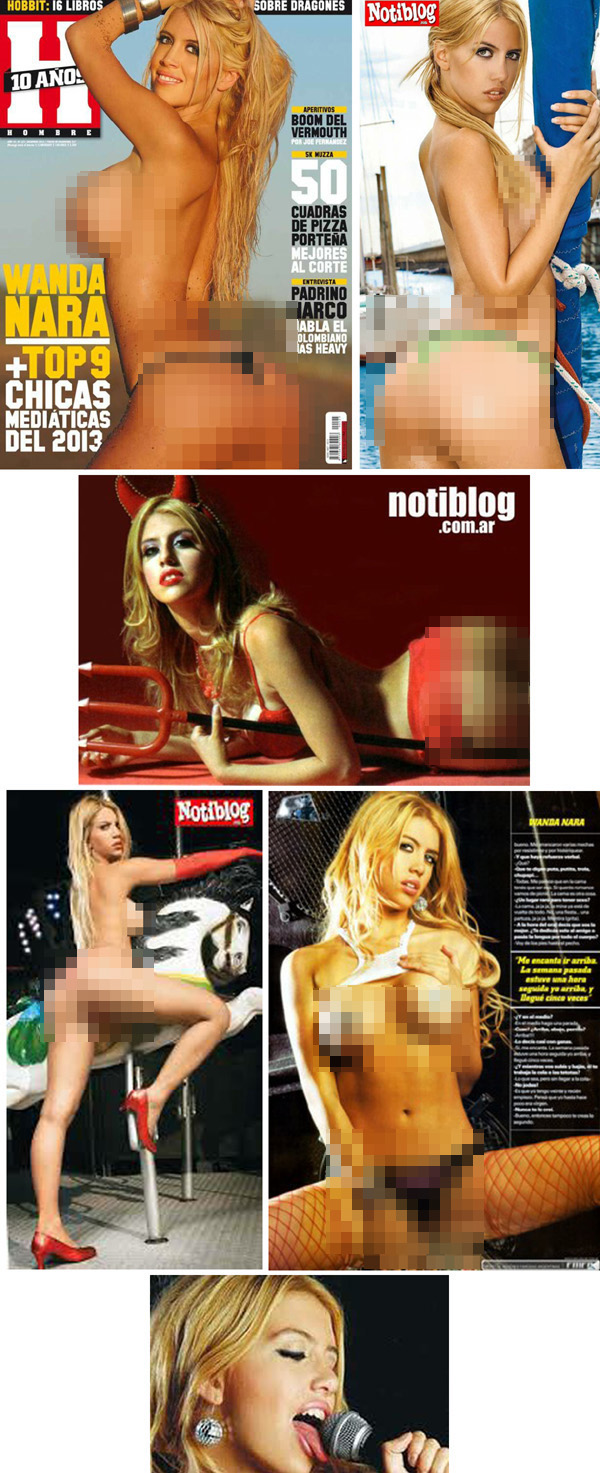 These pictures shows the same Wanda Nara posing, completely naked in an Argentine magazine for men! yet, Francis is very happy to welcome her in the Vatican without any qualms!
Indeed ANY man or woman who dresses as to expose his or her body, leading others to sin, will perish in hell UNLESS the person repents and turn a new leaf!
Catholic Modesty is important for holy life and so should be propagated for the good of souls. This has become VERY URGENT as more and more wicked fashion floods the market and people with happiness buy these evil fashions and wears them with relish.
Here is what Pope Pius XI taught about immodest dresses!
At the exhortation of His Holiness, Pope Pius XI, to counteract the indecent fashions, many Catholic bishops have made regulations in their dioceses and forbidden Catholic ladies to wear fashionable but unbecoming dresses at the sacred functions in church, and especially when receiving Holy Communion. Though they had to suffer the insults that a heathenized press hurled against them, they remained firm in their prohibition of the unchristian fashion. The Sacred Congregation praises them for their constancy and publishes the following regulations:
1. Pastors and preachers shall urge the Catholic women to wear modest dresses, and insist that the mothers stop their daughters from wearing unbecoming apparel.
2. The parents have the obligation to care for the religious and moral education of their children and they must take special care to instruct the girls in the principles of Christian doctrine, and by word and example foster in their souls a love for the virtues of modesty and chastity.
3. The parents must keep the girls away from public gymnastic exercises and exhibitions; if their daughters are forced to take part in such affairs, the parents should see that they wear clothes that are absolutely modest and never allow them to wear immodest uniforms.
4. The heads of girls' colleges and schools and the teachers must endeavor to instill into the minds of the girls such a love for modesty that they shall detest immodest dress.
5. The heads of schools and the teachers shall not admit to their schools girls who wear unbecoming dress, or whose parents wear them; if those already admitted do not heed the warning, they shall be dismissed from those schools.
6. The religious Sisterhoods shall not admit to their schools, colleges, chapels, or gymnasiums girls who do not dress in a manner becoming Christians, nor shall they tolerate girls already admitted.
7. Pious associations of women should be formed and fostered whose purpose shall be to counteract by example and practical efforts the abuses of the unchristian fashions and to promote purity of morals and decency in dress.
8. Into these associations are not to be received women who do not dress according to Christian modesty, and, if actual members violate the principles of the associations and do not heed the admonition to stop the abuse, they shall be expelled from the associations.
9. Girls and women who wear immodest dress shall be denied Holy Communion, and shall not be admitted as sponsors at Baptism and Confirmation, and, if needs be, shall be stopped from entering any church.
10. On those feast days during the year which present a special opportunity to inculcate Christian modesty, especially the feasts of Our Blessed Lady, the pastors and the priests in charge of women's societies shall by appropriate sermons exhort the women to wear dresses that bespeak Christian modesty. On the Feast of the Immaculate Conception special prayers shall be offered in all cathedral and parochial churches and, if circumstances permit, an appropriate sermon should be preached.
11. The Diocesan Vigilance Committee, spoken of by the Holy Office on March 22, 1918, should at least once a year meet for the purpose of specially considering ways and means of promoting effectively Christian modesty of women.
12. In order to put these Instructions into effect, the local Ordinaries shall every three years, together with the report on religious teaching (cfr. Motu Proprio, June 29, 1923), inform the Sacred Congregation of the Council on the matter of immodest dress of women and what the Ordinaries have done to counteract that evil.
(Source: Rev. Stanislaus Woywod, Canonical Decisions of the Holy See [New York: J.F. Wagner, 1933], pp. 222-223; Latin original in Acta Apostolicae Sedis XXII [1930], pp. 26-28.)
Presented by Malachy Mary Igwilo, 19th August, 2017, feast of St. John Eudes